---
| As Seen In Tampa Bay Metro Magazine |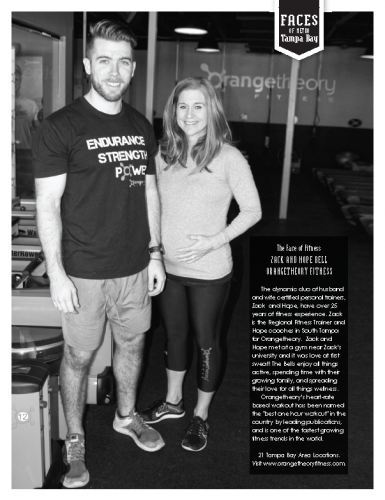 The Face of Fitness

Zack and Hope Bell
Orangetheory Fitness
The dynamic duo of husband and wife certified personal trainers, Zack and Hope, have over 25 years of fitness experience. Zack is the Regional Fitness Trainer and Hope coaches in South Tampa for Orangetheory. Zack and Hope met at a gym near Zack's university and it was love at first sweat! The Bells enjoy all things active, spending time with their growing family, and spreading their love for all things wellness.
Orangetheory's heart-rate based workout has been named the "best one hour workout" in the country by leading publications, and is one of the fastest growing fitness trends in the world.
---
21 Tampa Bay Area Locations.
Visit www.orangetheoryfitness.com.
---
Faces of Metro Tampa Bay ® 2017 | © 2017 Tampa Bay Metro Magazine & Blog | A Metro Life Media, Inc. Publication