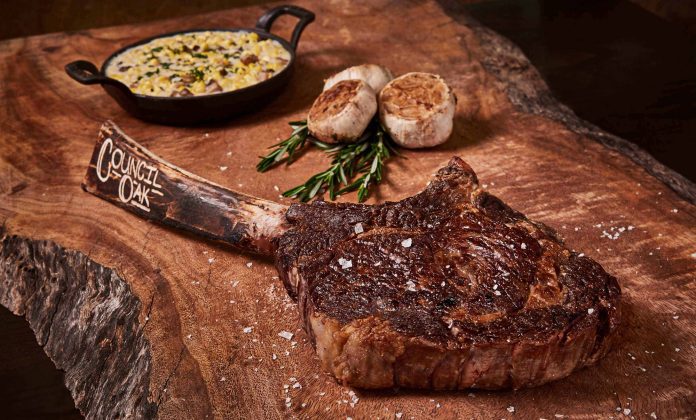 ---
The Best Restaurants and Bars in Tampa Bay
---
It's a foodie paradise located inside Armature Works with 14 options for food and drinks, Show + Tell workshop space and a retail shop. Everyone can decide what they want to eat from Noodles to BBQ to Pizza to Sushi and more, from the curated restaurants, or sit in the communal seating areas inside or out.
Meet friends on the casual outdoor deck, or inside for a taste of good southern cooking, including Shrimp N' Grits, Chicken 'N Waffles and Mamma Jackson's Meatloaf and more. The Buffalo Cauliflower is delicious and not to be missed. The bartenders are friendly and serve a great mason jar punch or a delicious Old Fashion.
From the impeccable service to the cut-to-order prime dry-aged steaks, it's one of the best steakhouses in Tampa Bay to indulge for a savory meal.  The Raw Bar sampler serves up Alaskan King Crab, Maine lobster, jumbo shrimp, and oysters.
Co-owned by 717's Michael Stewart and baseball coach Joe Maddon, Ava's offers rustic Neapolitan pizzas and delicious handmade pasta in the heart of South Tampa. Faves include the Bucatini All Vaccinara – pasta with oxtail, and pine nuts ,and the Funghi pizza made with cremini and shiitake mushrooms. The bar offers up delicious craft-cocktails and great wine selections.
Every day is a Fiesta Hour from 3 – 7 p.m. Enjoy the lively atmosphere with DJ music in the evenings and of course, the tasty margaritas with a splash of strawberry, peach, raspberry or mango. Great spot for brunch too with $5 Bloody Marys and Mimosas.
Get that authentic Italian pizza made in the wood-fired brick oven and gourmet sauce and delicious pastas at Bavaro's, to savor the old-world Italian flavors with locations in Tampa, St. Petersburg and opening soon in Sarasota.
The European flair of the wine bar and restaurant on Beach Drive in St. Pete, offers a delicious selection of meats and cheeses to build a custom charcuterie plate. Owned by the Mazzaro family, there is a wide selection of delicious wines by the bottle or glass. Enjoy a music duo or trio on Mondays. No reservations are needed.
The menu changes monthly, so there are always great options for easy meals that the entire family will enjoy. Whether you sign up for a class, or have the meals prepared or grab takeout, Dinner Done offers nutritious and tasty meals that even the kids will love. Takeout is available from the refrigerator cases at the Carrollwood location.
It's like two bars in one, with an inside area for the DJs or outside patio with live music. Beers and craft cocktails, including the frosty and tasty Frose' are offered to quench the thirst.
The expansive indoor and outdoor patio on Harbour Island, offers the perfect view of downtown Tampa and the Tampa Convention Center. AmSo, as they are known by locals, serves up great cocktails and is a place to be seen on weekend nights.
If you are a cigar lover, stop in to select from the vast selection of hand-made cigars, humidors and accessories. The staff is knowledgable and friendly. Grab a glass of wine or a whiskey cocktail at the bar and relax in the luxurious lounge or sit in an outside lounge area.
The glitz & glam of a bygone era are showcased through the fashionable cocktails and delicious menu offerings. The ambience is enhanced with gorgeous crystal chandeliers and comfortable lounge seating.
The bar, coffee and chic dining scene in Tampa Heights offers eight food and drink establishments, from poke bowls to asian inspired street food, and the latest addition of Sorellina, and handcrafted Italian by Bavaro's. A great place to meet up with friends for drinks at The Collection and dining, where everyone can decide what dishes will satisfy.
It's been Tampa's go-to deli cafe for over 55 years, serving up delicious sandwiches, salads and heavenly desserts. Our favorites include the Beef Martini sandwich and the Seventh Wonder Bars.
Located in the Sundial Complex in downtown St. Pete, Sea Salt's 80ft. oyster bar serves up a variety of oysters that arrive daily from around the country. Owner and Chef, Fabrizio Aielli, serves only the freshest seafood dishes and more that 4,000 bottles of wine, in the 22-ft. tall wine tower that are available by the glass or bottle.
The two locations in Oldsmar and Trinity serve up delicious and locally sourced ingredients whenever possible. The scratch kitchen menu offers delicious burgers, ale wings and sweet potato tots. The bar offers a great selection of beers on tap and hand craft cocktails.
The relaxed vibe of this Tiki Bar, on the St. Pete side of the Gandy Bridge, serves up great cocktails, music, food and a sunset celebration nightly. Arrive by land or sea, dock slips are available.
Serving up craft cocktails and small plates, the ambiance and service are great at Anise. Located in downtown Tampa, across from Curtis Hixon Park, there is DJ music on select nights. Must-tries are the Truffle Tater Tots and Stinky Buns. Outside cafe seating is available.
The "loungey" atmosphere attracts a chic and fashionable crowd for crafted cocktails, delicious bites and outdoor music. The menu offers a changing selection of small plates or entrees of beef, salmon, chicken or lamb.
Located in Hyde Park, the contemporary design interior and delicious seasonal menu, makes this a hot spot offering tantalizing options for lunch and dinner. The chefs are on view in the open kitchen and the menu offers delicious nibbles of  Pimento Dip, Burrata and Pomme Frite, and the share boards offer a selection of cheeses and cured meats. The Kale Salad on the lunch menu is a favorite.
The dining room is always filled with movers and shakers dining on delicious seafood, sushi and steaks. Enjoy a tasty hand-crafted cocktail or live piano music in the bar. The expanded patio offers great outdoor seating.
If you are a bourbon lover, Haven offers over 300 options to sip and savor. As part of the Bern's family of restaurants, Haven offers over 40 wines by the glass and delicious and innovative small plates. The menu offers charcuteries and a choice of 60 cheeses, hand selected from around the world.
Offering more than 50 beers on tap and 500 in the cooler, World of Beer will be sure to satisfy every beer lover. The menu offers a selection of good bar food and the upstairs deck at the International Plaza Tampa location, and is a great place to meet friends or celebrate the end of the work day.
The menu is lighter and unique at Rococo's, offering a twist on the classic steakhouse. The menu offers daily specials with unique seafood and steak preparations. Awarded Wine Spectator "Best of Award of Excellence" for four years running, with more than 650 labels.
Eddie V's is a great spot to meet friends for a celebration, or a business dinner in the Westshore area. The lively bar scene with jazz music nightly, attracts a beautiful crowd most nights of the week.
The Mill offers delicious options for lunch, brunch and dinner in the heart of downtown St. Petersburg. Sit outside when the weather is cooler and watch the people stroll by. The farmstead rustic décor and twist on southern favorites on the menu, offers a variety of seafood, prime steaks, sandwiches and salads.
It's a great place to meet friends and enjoy happy hour with cocktails at the end of the day, and to watch the magic of the setting sun in a panoramic view. Located atop Hotel Zamora.
Owned by the Gonzmart family, Ulele offers a great spot for lunch and dinner, with stunning waterfront views along the Hillsborough River. Inspired by Floridian native influences, the menu offers a twist on southern classics. Okra Fries, Crab Mac & Cheese and the Deconstructed Seafood Pot Pie are menu favorites.
A unique southern twist on the menu offers tasty delights including Homemade Chicken Pot Pie, delicious burgers, and Southern BLT with pork belly. A fave is the Devil's Eggs – deep fried with bacon and jalapenos. Brunch is available every day and Happy Hour is a great place to meet up with friends.
It's friendly and fun and feels a bit like Cheer's for the regulars, as they gather to meet friends and belt out their favorite songs. The cast of regulars that come to the South Tampa staple can really sing. The beer is cold and the drink prices won't break the bank.
Offering a stunning view from the 14th floor inside the Grand Hyatt, Armani's offers a romantic dining experience and stunning sunsets. The Northern Italian cuisine never disappoints.
The tasty menu offers up a great selection of Italian style pizzas, pastas, meats and seafood on Beach Drive. A perfect spot to enjoy the  outside, under the cover of the umbrellas, and people watch.
The upstairs patio is wonderful this time of year to dine outside, or enjoy a great happy hour and sunset view. Great starters include the Cheesesteak Eggrolls, Ahi Tacos and Deviled Eggs.
You must call ahead to receive the password that is required to enter the small, intimate bar and restaurant, located inside the Bayshore Royal Building. Reservations are recommended, especially on weekends to enjoy the delicious hand-crafted cocktails
and menu offerings.
A Tampa Bay staple since 1948, Brocato's has been offering its famous cuban sandwich that is traditionally filled with roast pork, ham, swiss cheese and of course, dill pickles between cuban bread, with a spread of yellow mustard.
Continuing to push culinary limits, Chef Pierola and her team blend unique flavors and provide guests a gastronomic delight. The unique and creative entrees and menu of small plates changes daily. Open for lunch and dinner.
Expertly designed, Oxford Exchange is part restaurant, part shopping and certainly a gathering community hotspot. Enjoy food and drinks inside the restaurant, grab a coffee or tea, shop for unique gifts, pick up the latest book, or shop for glasses at Warby Parker. Open for breakfast, lunch, weekend brunch or high-tea, with a tempting menu of sandwiches, soups and salads.
A fun spot to meet for a girls' night out or a romantic date night, the menu offers a recommended paring for each dish, along with a tasting room and retail market. Become a member of their wine club.
The chef inspired market and restaurant offers plenty of prepared items at the food stations, located on the first floor inside Sundial Plaza in downtown St. Petersburg. Dine upstairs at the FarmTable Cucina for lunch or dinner with  Italian-inspired dishes.
The beers that started it all: Free Dive (IPA), Wheat Stroke, UnHoly and Night Swim and 20 beers on tap, along with a large tasting room, are reason to stop in to visit and a grab a beer. Open seven days a week for tasting, with brewery tours at select times and days.
Noodles are the craze and with three Tampa Bay area locations, satisfy your craving for the delicious bowls at the original in Seminole Heights, Ichicoro Ane in downtown St. Pete. and Ichicoro Imoto at Heights Public Market at Armature Works. The homemade broth takes nearly 20 hours to make, with the menu offering a choice of broths and various additions.
Beer lovers enjoy the three regular releases: Jai Alai, Lager and Florida Cracker. The Tasting Room offers nearly 26 beers on tap. Brewery tours available. Area Food Trucks offer up delicious choices for dining and change daily.
The casual and laid back bar offers live music daily and great views of the Hillsborough River. Arrive by the Pirate Taxi or by boat or car. The menu offers up bar food staples of wings, oysters, fried seafood and more.
A massive fish tank graces the dining room inside the Guy Harvey restaurant. The menu offers up fresh sustainable Florida seafood on St. Pete Beach. The outdoor deck offers great cocktails and live music nightly.
The various counters serve up the best of Italy with the finest meats & seafoods, homemade pastas, deli, bakery, cheeses, coffee and gourmet imports. The Bakery serves up over 30 varieties of Italian cookies and gelato.
A staple of the SoHo dining scene, Owner, Michael Stewart has delivers a creative menu blending the best of Italy and the Pacific Rim dishes using only the freshest and local ingredients. A lively bar offers up great cocktails and more than 300 wines are available by the bottle. 717 South supports many local charities.
Since 1990, guests have enjoyed this bistro and wine bar offering pizzas, salads and pastas in South Tampa's Hyde Park Village. Dine indoors or on the outside patio, with a delicious cocktail or more than 40 different wines.
Part of the dining scene for 32 years, owners Chef Marty Blitz and Maryann Ferenc, continued to evolve and push culinary limits. The menu constantly evolves and changes with seasonal availabilities.
Ever evolving, Datz constantly strives to provide tempting food, cocktails and events for local foodies with a unique twist on comfort food. Datz has been featured on The Travel Channel, Food Network, Good Morning America and  others. Enjoy a great wine bar and craft beers on tap.
The iconic Tampa restaurant has been expertly preparing steaks exactly to guests' preference and makes every dining experience special, since 1956. First time guests must take the wine and kitchen tours. The Harry Waugh Dessert Room offers handmade desserts and ports to complete the experience.
Check out Oceanic for hard to find Asian ingredients, or a trip for unique dish and cookware, discover fresh produce, fish, duck, herbal medicines, teas and more in downtown Tampa.
The sun sets nightly with great views from the Sandpearl Resort. The Raw Bar offers a fresh selection of oysters, shrimp and more for a delicious Sunday brunch.
Offering a mix of Cajun favorites with a twist of Southern cuisine, the menu at Roux offers up steaks, alligator bites, gumbos and more. Open for lunch and dinner with great chargrilled oysters served at Happy Hour.
Escape to the Mediterranean with a tasty menu choice of hummus, falafel, dolma, delicious kabob or gyros and other authentic Lebanese favorites, as well as, additional whole fish and pasta options in the new darker, modern interior.
Enjoy southern favorites like Fried Chicken and Waffles, Fried Catfish or some Kansas City BBQ, while listening to live music till 7 p.m. on Sundays. Bloody Ella is a great start to any meal.
Chef-Owner David Benstock and his wife, Erica have created a gem of a dining experience on Central Avenue in downtown St. Petersburg, with a menu that is updated daily to reflect the freshest ingredients possible. The Short Rib Mezzaluna, Caprese Salad and Roasted Baby Beets are favorites, or choose a Prix Fix menu.
The rustic casual, yet chic interior is a great place for cocktails, or enjoy a meal with friends in South Tampa. The menu changes with availability of ingredients.
The Dunedin Brewery has been passionately brewing beer since 1996 and is the oldest microbrewery in Florida. Visit for a cold beer and a bite to eat and a good time.
Capital Grille, located at International Plaza, is a central meeting place for a delicious lunch featuring renowned dry-aged steaks and a 5,000 bottle wine list.
The new location in Seminole Heights allows for more seating in the chic, minimalist decor space. Sourcing the freshest local meats, vegetables and seafood, Chef Baker creates a menu that changes several times a week. Everything is made in-house from scratch. Open for Dinner and Brunch on weekends. Full Bar menu too.
The Columbia Restaurant is owned and operated by five generations of the Gonzmart family. For 113 years, the historic Ybor location has been serving up delicious Spanish dishes including the famed 1905 salad, chicken and yellow rice, ropa vieja and more. Enjoy the Flamenco dancers at the Ybor location.
Ceviche offers a delicious selection of hot and cold tapas, from the signature paellas to the seafood ceviches. Enjoy the unique Spanish atmosphere and ambiance while sipping a glass of white, red or cava sangria. Flamenco, jazz or latin music on select nights.
Located just outside the Tampa Convention Center on the Tampa Riverwalk, The Sail offers great food, music and waterfront views. This urban oasis is family and dog-friendly. Brews & Bites – a monthly food truck rally, takes place the 2nd Friday of each month.
A wonderful selection of unique and limited wines are available in the shop in Palma Ceia, and the bar and wine garden offer the ideal spot to discover new wines and share a small plate. A second mini Cru opened in the Heights Public Market, offering wines by the glass and focused menu.
Since 1984, Guido and Gino Tiozzo have welcomed guests with authentic Italian cuisine with fresh pastas, seafood, veal and more. Live music nightly in the jazz and piano bar.
Enjoy an expansive wine cellar and fresh local seafood on the beach in Indian Shores. Steaks are cooked over the natural oak and citrus wood fire pit.
Under the direction of Executive Chef Jeffrey Jew, the American tavern food is influenced by the Chef's travels around the world. The open view of the kitchen, along with the rustic interior, set a great scene for lunch or dinner on Beach Drive in St. Petersburg.
Chef Chris Ponte continues to offer an American-inspired menu that dazzles palettes for lunch and dinner with inspirations from French, Italian and Asian influences. Updated with the season, the menu offers a delicious selection of salads, seafood and steaks.
It's a great place to be seen and enjoy the great views of Tampa Bay, Straub Park, and downtown St. Petersburg, along with crafted cocktails and appetizer menu. Private cabanas can be reserved, or enjoy living room-style   seating and fire pits for cooler evenings.
The scenic water views and Hawaiian island-inspired cuisine, offer up a casual place to relax, dine and drink with friends. Enjoy live music and DJs down at Dukes.
If you want to escape the crazy crowds just one block away, SoHo Backyard offers a delicious escape to the crowds with delicious menu choices of daily specials and a full menu served late.
The views are stunning and the selection of breakfast items, seafood, pasta, meats, desserts, and more create for a wonderful Sunday Brunch, complete with Mimosas and a Bloody Mary Bar.
Located in Hyde Park Village, Owner, Richard Gonzmart has brought back a slice of nostalgia. The burgers with the special sauce brings back memories for many, along with the delicious  butterscotch pie. Breakfast is served all day.
An early innovator of the craft-cocktail scene, Mandarin Hide is a gem of a place on Central Avenue in St. Pete. The bartenders are friendly and can concoct a delicious craft cocktail.
Located in South Tampa, Terra Gaucha is a meat-lovers paradise with its unlimited offerings of beef, chicken, pork, fish and lamb, cooked over natural wood charcoal and rock salt. The center island salad bar offers a fresh selection of salads and hot sides.
Located in Hyde Park, the atmosphere is lively and the bar serves up a delicious mojito. Smaller in size, but offering a choice of tacos including spicy chorizo, portobello, cauliflower, fish, shrimp and more, are all tasty. Order a couple with either a corn or bib lettuce shell.
Fresh ingredients and unique offerings with the Vietnamese and French influence and a devoted following, have allowed owner and Chef BT Nguyen, to expand this year with fine casual dining Bistro BT and BT-TO-GO. Favorites are the Duck Confit and Vietnamese dishes Fresh Rolls, Bun Bowls, Pho Noodle Soup and Banh Mi Sandwiches.
For elevated dining inside the Seminole Hard Rock Hotel & Casino, the Rez Grille delivers with a twist on comfort foods with delicious house made biscuits served with Benton country ham, and family type chicken and waffles or St. Louis Ribs. The bar serves up craft cocktails and three local brews on tap.
Offering up delicious sandwiches on fresh baked breads, to the numerous topping pizza slices and tasty bakery goods, Pane Rustica is a spot to dine with friends and feel like family. It can be loud and very busy, but the tantalizing dishes are worth it.
© 2019 Tampa Bay METRO Magazine & Blog  |  A Metro Life Media, Inc. Publication
---