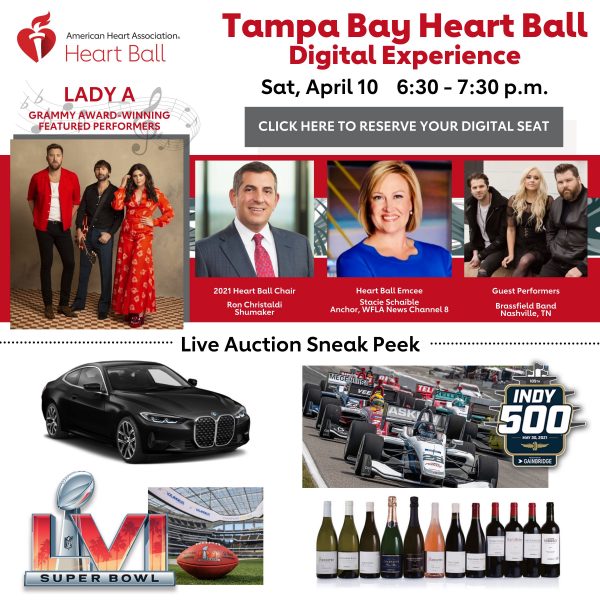 The thrill of the live auction, the support of the mission, and the unparalleled sense of community of the Heart Ball is leaving the ballroom, and coming to your living room. Heart Ball Chair Ron Christaldi, along with the 2021 Heart Ball Executive Cabinet, invite you to join them at the 2021 Heart Ball Digital Experience on Saturday, April 10 from 6:30-7:30 p.m. 

Together, we will educate our community on the importance of living a healthy lifestyle, fight for the highest quality and most equitable care for all, and band together in the continued efforts to fight heart disease and stroke. Let's celebrate the amazing accomplishments of the American Heart Association – globally, nationally and locally – that is only made possible when champions like you join us. Your continued support ensures that the people who need us most can experience life's best moments together.  

We look forward to celebrating with you on Saturday, April 10, 2021.
The night will be a highly engaging program, including an introduction to a family touched by heart disease, and a performance by multi-platinum, seven-time Grammy winning country trio, Lady A!
Below you will find helpful information on how to RSVP.
Step 1: Go to https://event.gives/tbheartball 
Step 2: Scroll down to registration/rsvp section
Step 3: Click checkout and then pay now (it will show $0 in the box).
Step 4: You will be prompted to create an account if you have never participated on this platform before.
*Please note, registration does require a credit card. This is not paying for a ticket, rather to keep on file if you win any auction items or choose to make a donation during the event. Otherwise, the card will NOT be charged.
After completing the registration process, you will receive a text message from Event.Gives and a calendar hold shortly after.
Please join us! If you are not able to virtually attend, please consider our lifesaving mission by making a donation. Your support enables the American Heart Association to improve health outcomes right here in Tampa Bay!