---
The Birchwood's New Executive Chef, Luke Decker
By Ronda M. Parag
There are many new and exciting things cooking up in the kitchen at The Birchwood. First, is the announcement of their new Executive Chef, Luke Decker, who will oversee all culinary operations at the property. Second, is the announcement of the new Chef de cuisine, Anthony Decker, Chef Luke's brother. The new duo will be marketed as the "Brothers on Beach" as The Birchwood sits on scenic Beach Drive in downtown St. Petersburg, overlooking the beautiful waters of Tampa Bay.
Upon being appointed, Decker quickly created and implemented a new menu that offers a variety of new choices for brunch, lunch and dinner at The Birch & Vine Restaurant, located inside The Birchwood. Decker has been working at the restaurant since its opening in 2013, and his familiarity of the kitchen and staff allowed for him to move quickly in executing the delivery of the new menu. Chef Luke's intense work ethic, technical skills and love of cooking, fuels his excitement to bring his culinary skills to guests.
Combining the experience of his brother Anthony, who brings years of experience at Felidia in NYC working as Chef de cuisine under owner, Lidia Bastianich, the culinary experience at The Birchwood continues to rise. "There are lots of options on the menu and I feel like there is something for everyone," said Decker.
When asked what dish on the new menu is most exciting, Decker offered, "My favorite dish to make and present is the tuna, because I think it has the best wow factor when it's brought to the guest, however, if I were a guest in the restaurant, I'd order either the carbonara or the ribeye."
METRO: When did you know you wanted to be a Chef?
DECKER: Originally, I worked in retail, but my brother, Chef Anthony, convinced me to come work with him at Bella Brava. I've loved it ever since.
M: What is your favorite cuisine to cook?
D: At home, I like to cook steak or shrimp on the grill. At work, I love to cook fish and use the great local produce that is available such as heirloom tomatoes, radishes, and citrus.
M: Favorite kitchen equipment? And advice for a home enthusiast?
D: One must have a good chef's knife and don't be afraid to use salt.
M: We saw you compete in the Epic Chef Competition last summer. Tell us more.
D: The mystery basket challenge benefitting Feeding Tampa Bay was a wonderful experience. The mystery ingredients were maraschino cherries and bologna in one basket and the other was ground turkey and baked beans. I had never competed in the challenge before and the experience took me out of my comfort zone, and made me a lot more comfortable cooking for an audience.
M: What do you do for fun?
D: I love to go to sporting events, play with my kids and sleep. My wife and I have two boys, Sean, 6 and Michael, 2.      M
Gallery of some of Chef Luke's new dishes
click on images to enlarge photo or view as a slideshow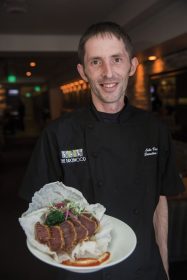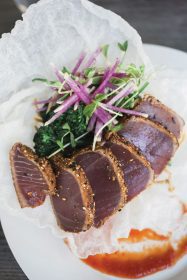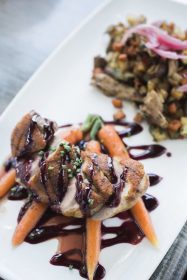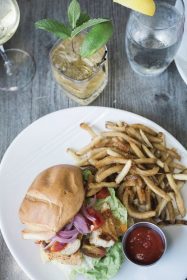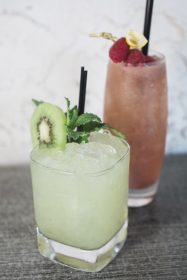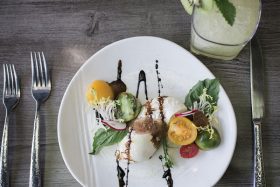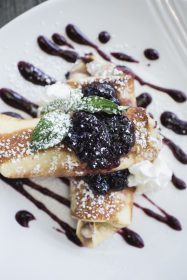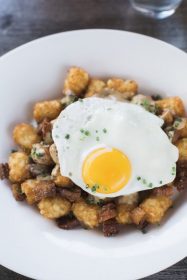 ---
Birch & Vine at The Birchwood
727.896.1080
340 Beach Dr NE
St. Petersburg, FL 33701
www.thebirchwood.com
---
© Tampa Bay METRO Magazine & Blog  |  A Metro Life Media, Inc. Publication