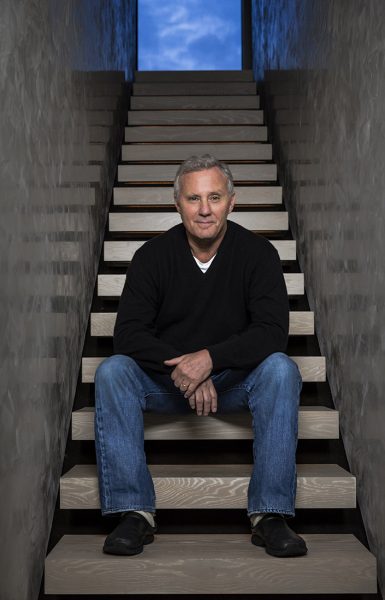 Meet Ian Schrager
Creative Director,
The Residences at
The Tampa EDITION
By Ronda M. Parag
METRO had an exclusive opportunity to video chat with the legendary Ian Schrager, Creative Director for EDITION and Founder and CEO of Ian Schrager Company. Schrager says he has been working from home, using Zoom and is optimistic that we've turned the corner on the pandemic. "We will get back to the same normal," says Schrager. "We always do. It may take a little while. Masks and social distancing might be the norm, but we will get back to the way we were. People have a tendency to remember the good and forget the bad."
Scheduled to open later this year, The Residences at The Tampa EDITION are developed by Strategic Property Partners, LLC and will be only the third EDITION residences in the world. There are 26 EDITION hotels throughout the world and the Tampa EDITION is located within the newly created 56-acre Water Street Tampa neighborhood in downtown Tampa. The EDITION hotel will have 172 guest rooms and suites, six food and beverage outlets, a signature restaurant and roof top bar and terrace. Atop the hotel, there are 37 luxurious, one-of-a-kind homes, called The Residences at The Tampa EDITION. The Residences at The Tampa EDITION weave ease and well-being into every aspect of life and are designed to promote wellness.
GALLERY IMAGES (click to enlarge view)
METRO: Tell us your thoughts about The EDITION in Tampa.
Ian Schrager: The scale is very exciting. This is Tampa's moment and it doesn't happen by itself. Tampa has industry and is really a great city. The quality of life was good. Tampa's been in the shadow of Orlando and South Florida and that is over with. I think Tampa is the gateway to all of southern Florida. I believe that, not because of any data or intellectual studies, I'm saying that because, I feel it. Tampa is a good city to live and provides a quality of life. Sometimes, it takes time to wake up and see something.
M: You are credited with creating the luxury-boutique hotel concept. Give us some background.
S: "I'm a little bit of a renegade, I like being subversive to the status quo. When we did the first lifestyle hotel, we wanted to do something that hadn't been done before. We wanted to manifest my generation, not my parents. We created for my popular culture, not my parents. Things change and hotels need to reflect those changes through the visuals, designs, feel – through the F & B, etc.
M: What will be different about the EDITION in Tampa from other markets?
S: The property has to be appropriate for the location – it's a manifestation of the place. The hotel will feel like your staying in Tampa, not a cliché. The hotel reflects and has references to Tampa, the sunny hotel in the center of state, but at the same time, we need to be be true to ourselves. We need to be consistent with the aesthetic and style, and the standards of excellence. But, the property has to be a Tampa hotel for it to be successful. It has to be different in subtle and sophisticated ways. The plantings and landscaping was a critical aspect of the EDITION. We don't want people to feel like they are leaving Tampa to come inside, so we created a the tropical oasis. The inside is an extension of the outdoor space. Each EDITION hotel reflects the feeling of the city they are located.
M: What separates the EDITION from other luxury hotel brands?
S: Our notion of luxury is a modern notion – for modern people, based upon a different criteria than previous. Luxury today is not about the brand of your shirt or car you drive, it's about how you feel. How does the property make you feel? Is it comforting, is it convenient, does it give you the freedom of time and freedom from hassles? I think that is what traditional luxury hotels are missing. Traditional hotels are using antiquated criteria that people just don't care about any more. People want to be treated with humanity, with a genuine friendliness and that is the EDITION approach. Everything changes, we can't be guided by the past. Luxury has to keep pace with it. The EDITION wants to provide guests with a new luxury experience. We want to give guests everything they need, and nothing they don't, and that takes all the pretense out of it.
M: What do you like about the Tampa Bay area?
S: Life is easy. You are able to get around easy, close to the airport and views of the water. The people have an energy, it's urbanized, but they are still kind of relaxed about everything. Tampa is one of the leading cities right now.
M: We have to ask about Studio 54. Any thoughts?
S: I have ambivalent feelings about Studio 54, obviously, but I love when people tell me about their good times and experiences. It was my first business and as time goes on, I'm remembering more and more of the good, and less and less of the bad. I enjoy doing things that people haven't seen before. Because they love it, that is why I still keep doing it.
M: How will you spend your summer?
S: I have a big family, and really enjoy time with my friends and family. We will go to the beach and on the boat. I know that doesn't go along with my nightclub past. I tell my kids — I'm lucky, I love what I do. To me, I'm the richest guy in the world. I love my family, I love my friends, I love what I do. I'm perfectly content with what I have, and I don't care what anyone else has. I'm the happiest I've ever been in my life. M