Derrick Adams (American, b. 1970), Floater 80, 2018, Acrylic paint on paper, Collection of the artist
The Museum of Fine Arts has reopened to art supporters and offers up two insightful exhibits for fall. Derrick Adams: Buoyant reveals the carefree, joyful leisure scenes of Black life that so often go unseen. Derrick Adams has observed that in art and in reality, images of Black people at play, being joyful, and simply enjoying life are not the norm. To fill this void, Adams created a painting series titled Floaters between 2016 – 2019, where Black men, women and children lounged in or rested on novelty floaties in the pool. He wanted to share these images with the world, and for Blacks to see themselves through a lens of freedom, fun, and leisure.
"We are honored to present these powerful works of art by Derrick Adams, who has grown as a revered and critically-acclaimed artist in the contemporary art space in the past few years," said Kristen A. Shepherd, the MFA's Executive Director and CEO. "The show is a true delight, and a real coup for the MFA and our community. We want our museum visitors to embrace these monumental paintings as the powerful, hopeful, and joyful images they are meant to be."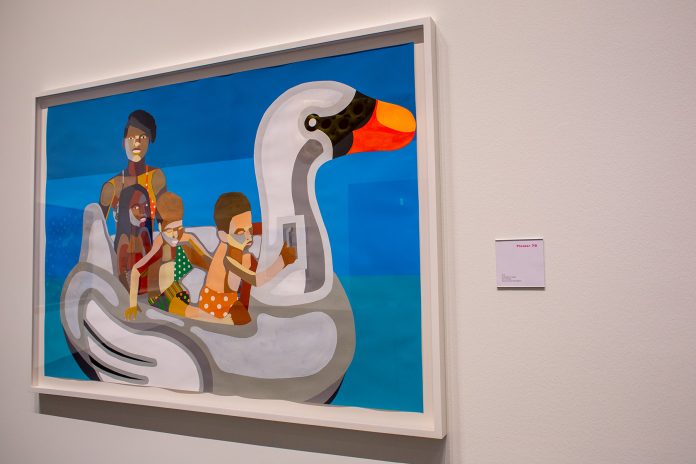 Derrick Adams (American, b. 1970),​ Floater 78, ​2018, Acrylic paint on paper, Tamia and Grant Hill Collection
In the exhibition, the 12 mixed-media works come together from private collections, including two celebrity couples: R&B singer Tamia and her husband, former NBA player Grant Hill (who reside in Orlando), and Kasseem "Swizz Beatz" Dean, hip-hop super producer and his wife, multi Grammy-award winning singer/songwriter Alicia Keys (their incredible collection is know as The Dean Collection). One of the inspirations for this exhibition came from a 1967 Ebony magazine article which features Dr. Martin Luther King, Jr's vacation in Jamaica, is also on display.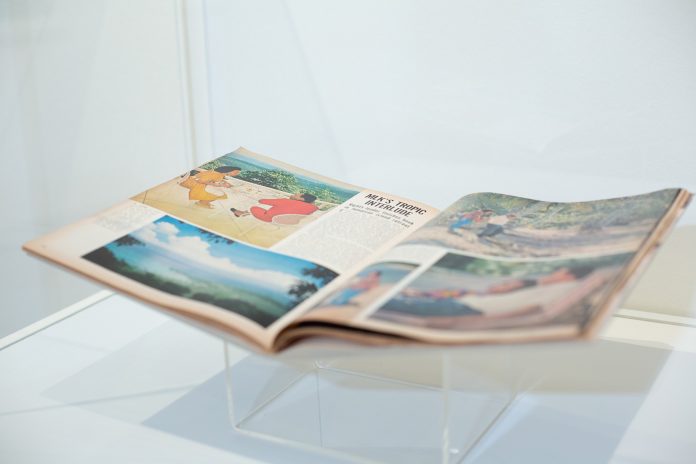 Ebony,​ June1967,JohnsonPublishingCompany,MuseumPurchase
"Regardless of all the things that are happening to Black people around the world, we still find time to connect with each other," says Derrick Adams. "If we were constantly in this place of battle, we really couldn't exist. We need time to replenish our love and faith and joy."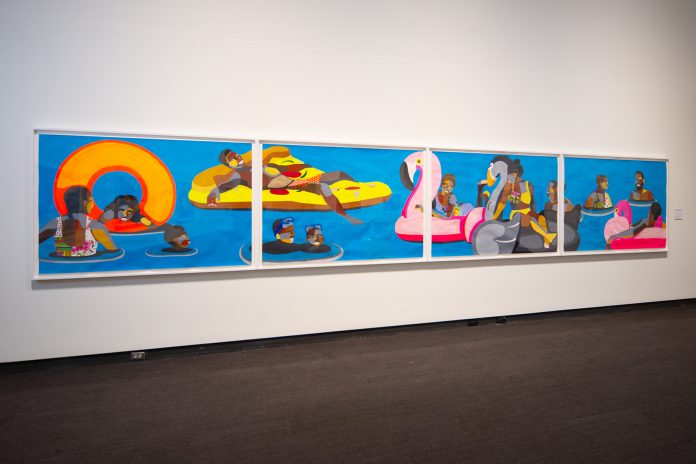 Derrick Adams (American, b. 1970),​ Floater 74, ​2018,
Acrylic paint, pencil, fabric on paper collage, on paper, Quadriptych, The Dean Collection
Also on view is Copper, Silver, Salt, Ink The Chemistry of Photography's Enduring Desires which celebrates early photography and showcases two types of early photography from as early as the 1830s. For a complete list of scheduled programs around both exhibitions, visit the museum's website. The exhibits will be on view through November 29, 2020.
Due to the current pandemic, MFA is using timed-entry admission and tickets must be purchased on the website prior to the visit. If someone comes to the museum without an advanced ticket, they will be taken through the steps of how to book their time and purchase tickets on the website. For more information on safety requirements and what you need to know before you visit, mfastpete.org.