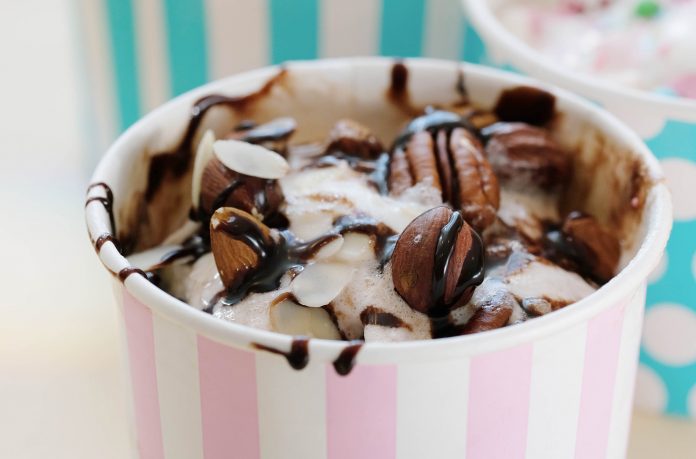 8 Great Summer Scoops
By Ronda M. Parag
It's the quintessential food of summer
 

— that sugary, sweet taste of ice cream, or a cool burst of a flavored popsicle. Beat the heat this summer with a scoop (or two) from some of our favorites shops around Tampa Bay.

Dairy Joy
Serving up soft serve cones with dips, hard picked ice cream along with delicious shakes, snow cones, sundaes and banana splits. Sit outside at the picnic tables and enjoy the statue of Elvis that makes for a great selfie post.
3813 S. Manhattan Ave. | Tampa, FL 33611
813.839.5485 | www.dairyjoytampa.com
---
Bright Ice
There are now three locations serving up small batch ice cream with the most recent location in downtown Tampa. Unique flavors include blueberry with cinnamon and carmelized bananas with peanut butter and honey, plus locally sourced ingredients whenever possible.
Located at Tampa Marriott Water Street
505 Water St. Suite A-01 | Tampa, FL 33602
813.442.8419 | www.brighticeisnice.com
---
Aubi & Ramsa
Enjoy a sweet treat just for adults with infused premium liquor ice cream and sorbet. The Tampa location is sleek and sophisticated inside the Seminole Hard Rock Hotel & Casino Tampa. The containers include bourbon, champagne and single malt such as Macallan 12 years, and Veuve Cliquot Rose & St. Germain.
Located in Seminole Hard Rock Hotel & Casino Tampa
5223 Orient Road | Tampa, FL 33610
www.seminolehardrocktampa.com
---
Chill Bros. Ice Cream
Whether your in South Tampa or Ybor City, the name comes from the local Chillura family that created the scratch made custard with five pure ingredients. Based on the season, you'll find seasonal selections with fruit from Plant City's Wish Farms including Blueberry Buckle or Strawberry. Classic flavors include Chronic Popcorn or the Guava Pastelito.
3302 W. Bay to Bay Blvd. | Tampa, FL 33629
813.835.0008 | www.chillbros.com
1910 E. 7th Ave. | Tampa, FL 33605
www.chillbros.com
---
The Revolution Ice Cream Co.
Started in Seminole Heights, this ice cream shop serves up the most unique flavor combinations including chocolate and habanero peppers, and candied bacon ice cream. There is always new flavors on the menu at the three locations that have a play area for the kids and walls filled with work by local artists.
6701 N. Florida Ave. | Tampa, FL 33604
813.513.5053 | www.revicecream.com
4032 W. Kennedy Blvd. | Tampa, FL 33609
813.573.7744 | www.revicecream.com
---
Paciugo Gelato & Caffè
The award-winning, sweet and creamy treat from Italy is available right here on Beach Drive in St. Pete. Try a delicious serving of gelato in flavors like Crunch Berry, Amarena Black Cherry Swirl and Monkey Business. Also serving delicious shakes, smoothies, pies and macaroons and a Affogato — gelato topped with expresso or hot chocolate.
300 Beach Drive Northeast | St. Petersburg, FL 33701
727.209.0298 | www.paciugostpete.com
---
The Hyppo
These gourmet ice pops are the ideal summer treat that are available around Tampa Bay. The popsicles have unique flavor combinations and are made with only the freshest fruit, herbs and ingredients. The company has made over 450 combinations and are still experimenting. Each shop has around 50 flavors to choose from.
702 S. Village Circle | Tampa, FL, 33605
813.422.4387 | www.thehyppo.com
1600 E. 8th Ave. | Tampa, FL 33605
813.644.4289 | www.thehyppo.com
627 Central Ave. | St. Petersburg, FL 33701
727.489.6536 | www.thehyppo.com
---
Snobachi Handcrafted Ice Cream
In the heart of Ybor City, the once rolled ice cream is now serving up scoops of their delicious ice cream with the same great flavors and great toppings to choose from including Doh Butter — bischoff cookies and cookie dough mix, and Berry Cheesecake. Also, enjoy the delicious icy Dragon Ballz and milkshakes and slushies.
2206 E. 7th Ave. | Tampa, FL 33605
813.284.6071 | https://snobachi.business.site
---
© 2021 Tampa Bay Metro Magazine & Blog | A Metro Life Media, Inc. Publication