Metro Tampa Bay
Attractions, Parks and Recreation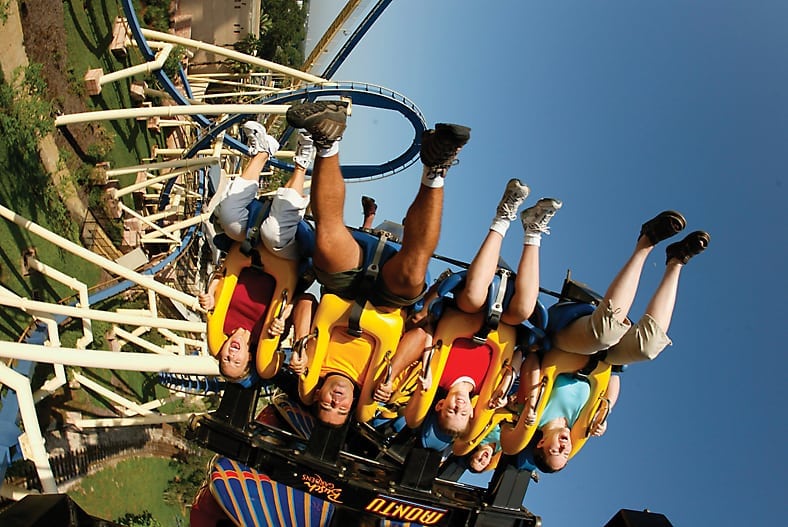 A thrill ride aboard Busch Garden's "Mantu"
---
Attractions
---
Adventure Island
10001 N. McKinley Dr., Tampa
888-800-5447
Tampa Bay's only water park features water play areas, a championship volleyball complex, outdoor cafes, picnic and sunbathing areas. Guests can conquer speed slides and float along on a rambling river. Hours: Vary. Admission: Adult: $41 Children: (3 – 9) $37 Under 2 FREE
---
Busch Gardens
10001 N. McKinley Dr., Tampa
(813) 987-5082
www.seaworldparks.com/buschgardens
Capture the spirit of Africa at this 300-acre family entertainment park. Unique combination of thrilling rides, zoological habitats, more than 3,300 animals and live entertainment. Hours: 10 a.m. – 6 p.m.  Admission: Adult: $82, Child: (3 – 9) $77, Under 3 FREE
---
Clearwater Marine Aquarium
249 Windward Passage, Clearwater
(727)441-1790
Observe the rehabilitation and care of rescued dolphins, whales, otters and sea turtles! Get your hands wet petting stingrays. Marine Life Adventures offers an interactive marine experience in Clearwater Bay. Hours: Mon – Sun 10 – 6 p.m.  Admission: Adults: $9.95 Seniors (60+): $8.95  Children (3-12): $6.95 Under 3 FREE
---
Discovery Cove
6000 Discovery Cove Way, Orlando
1-877-4DISCOVERY
Experience an all day adventure with the most exciting animals and saline encounters imaginable. Swim with lovable bottlenose dolphins, exotic fish, large stingrays or relax on the sandy beaches. Reservations are required. Hours: 8 a.m. – 5:30 p.m. Daily. Prices vary.
---
Florida Aquarium
701 Channelside Dr., Tampa
(813) 273-4000
Explore Florida's water story from underground source to open sea. See native plants and animals including fish, rays, sharks, birds, otters, alligators in air-conditioned comfort. Hours: Everyday 9:30 a.m. – 5 p.m. Admission: Adults (12+) : $21.95, Seniors (60+): $18.95, Children (under 12):$16.95 , 2 and under: FREE.
---
Great Explorations Children's Museum
1925 4th St. N., St. Petersburg
(727) 821-8992
The whole family can be creative, make discoveries and have fun in this new museum located next to Sunken Gardens. Try a lie detector, build a tower, create a movie and much more. Hours: Mon. – Sat. 10 a.m. – 4:30 p.m., Sun. 12 p.m. – 4:30 p.m.. Admission: General: $10, Seniors: $9, Members and children 11 months and under: FREE.
---
Seminole Hard Rock Hotel and Casino
5223 N. Orient Road, Tampa
1-866-502-PLAY
As the sixth largest casino in the world, play 24/7 at the recently expanded with 4,500 machines and 120 game tables featuring Blackjack, Baccarat, 3-card poker and more. Enjoy musical acts inside the Hard Rock Cafe.
---
John's Pass Boardwalk
150 John's Pass Boardwalk, Madeira Beach
(727) 393-8230
John's Pass is one of the area's most exciting attractions, with restaurants and shops over looking the beautiful water. There are also boats, wave runners, parasailing, and rafts to rent.
Admission: FREE
---
Tampa's Lowry Park Zoo
1101 W. Sligh Ave., Tampa
(813) 935-8552
One of the top three zoos of its size in North America, this 24-acre zoological garden features over 350 species in natural habitats including a Florida Manatee and Aquatic Center, Florida wildlife exhibit, Primate World, Asian Domain, aviary, and petting zoo. Hours: Everyday 9:30 a.m. – 5 p.m. Admission: Adult: $24.95, Seniors (60+): $22.95, Children (3 -11): $19.95, Under 2: FREE.
---
Sea World
7007 Sea World Dr., Orlando
888-800-5447
Discover sensation adventures! Plunge through unexpected thrills on the incredible Journey to Atlantis water-coaster ride. Take off on a daring jetcopter ride to the Wild Arctic. Get real close to polar bears, walruses and beluga whales! Hours: Vary. Admission: Adult: (10+): $82 Children (3 – 9):$77  Under 2 FREE
---
Sunken Gardens
1825 4th St. N., St. Petersburg
(727) 551-3102
Discover the beauty of this 100-year-old botanical paradise. Explore cascading waterfalls, beautiful gardens, more than 50,000 tropical plants and flowers and a walk through butterfly house, or experience a guided tour, special event or workshop. A Botanical Experience Awaits You. Hours: Mon. – Sat. 10 a.m. – 4:30 p.m. Sun. 12 – 4:30 p.m. Admission: Adult: $8, Seniors (55+): $6, Children (2-11): $4,
Under 2: FREE
---
Universal Studios Florida & Island of Adventures
6000 Universal Blvd., Orlando
(407) 363-8000
Thrill to 400+ acres of incredible rides, shows and attractions at the #1 movie studio and theme park, Universal Studios. Islands of Adventure is unique theme park made up of exciting thrill rides and shows featuring cartoons, dinosaurs, dragons, and much more! Hours and prices vary.
---
Walt Disney World
P.O. Box 10,000, Lake Buena Vista
(407) 939-6244
Four theme parks – Magic Kingdom, Epcot, Disney-MGM Studios, Disney's Animal Kingdom, three water adventure parks – Blizzard Beach, Typhoon Lagoon, River Country, Disney's Wide World of Sports Complex, Downtown Disney (the Marketplace, West Side and Pleasure Island), 26 resort hotels, six golf courses and more! Hours and prices vary.
---
Weeki Wachee Springs / Buccaneer Bay
6131 Commercial Way, Spring Hill
(352) 592-5656
An old-timed Florida attraction featuring an underwater theatre showing "The Little Mermaid", and Wilderness River Cruise. Spend the day swimming in the spring and having an old-fashioned good time. Hours: Vary by month.
Adult:$13.00 , Children (6-12): $8, Under 5 FREE
---
 Parks and Beaches
---
Caladesi Island State Park
#1 Causeway Blvd.,
Dunedin, Florida 34698
(727) 469-5918
www.floridastateparks.org/caladesiisland
One of the few remaining large undeveloped barrier islands on Florida's Gulf Coast. The park offers camping, swimming, canoeing, fishing, picnicking, and hiking/nature trails. Hours: Mon. – Sun. 8 a.m. – Sunset. Admission:  Can take ferry to island for $14 per person ($7 ages 4- 12).
---
Honeymoon Island State Park
#1 Causeway Boulevard
Dunedin, Florida 34698
(727) 469-5942
www.floridastateparks.org/honeymoonisland/
Park visitors can drive across Dunedin Causeway to enjoy the sun-drenched Gulf beaches, mangrove swamps, and tidal flats. Nature lovers will find osprey nests, a wide variety of shorebirds, and one of the few remaining virgin slash pine forests in South Florida. The park boasts several nature trails and bird observation areas. Visitors can swim, fish, and snorkel in the warm waters of the Gulf or picnic while they enjoy the beautiful scenery. Shelling is particularly good here, as the Gulf currents deposit an incredible variety of seashells on the shore. Showers are available and the park´s concession has a gift shop and snack bar.  Hours: The park is open from 8:00 a.m. until sundown, 365 days a year. Admission Fee: $8.00 per vehicle. Limit 2-8 people per vehicle. $4.00 Single Occupant Vehicle. $2.00 Pedestrians, bicyclists, extra passengers, passengers in vehicle with holder of Annual Individual Entrance Pass. $4.00 per vehicle: sunset fee, starting one hour prior to sunset. Picnic Pavilion Rental Fees: $30.00 per day, plus tax.
---
Egmont Key State Park
3500 Pinellas Bayway S., Tierre Verde
(Egmont Key is located at the mouth of Tampa Bay, southwest of Fort DeSoto Beach. Access by private boat only.)
(727) 893-2627
www.floridastateparks.org/egmontkey/
Egmont Key is a 440 acre island and refuge for wildlife, including a lighthouse that has stood since 1858. Although this park is primarily a wildlife refuge, it can be a personal refuge – a place to relax and collect shells along secluded, pristine beaches. Accessible only by private boat, Egmont Key has a unique natural and cultural history, including a lighthouse that has stood since 1858. During the 19th century, the island served as a camp for captured Seminoles at the end of the Third Seminole War and was later occupied by the Union Navy during the Civil War. In 1898, as the Spanish – American War threatened, Fort Dade was built on the island and remained active until 1923. After touring the historic sites and trails, visitors can enjoy swimming, fishing, wildlife viewing, and picnicking. Located at the mouth of Tampa Bay, southwest of Fort DeSoto Beach. Hours: Sunrise – Sunset Admission: FREE
---
Fort De Soto State Park
3500 Pinellas Bayway S., Tierre Verde
(727) 582-2267
Named as one of America's top beaches, the park additionally offers camping areas, nature trails, two fishing piers, rental facilities and a biking and skating trail. Park closes at dusk. Piers and ramp open 24 hours. Admission: FREE
---
[shareaholic app="share_buttons" id="15809805″]
© Tampa Bay METRO Magazine and Blog
[shareaholic app="recommendations" id="15809813″]