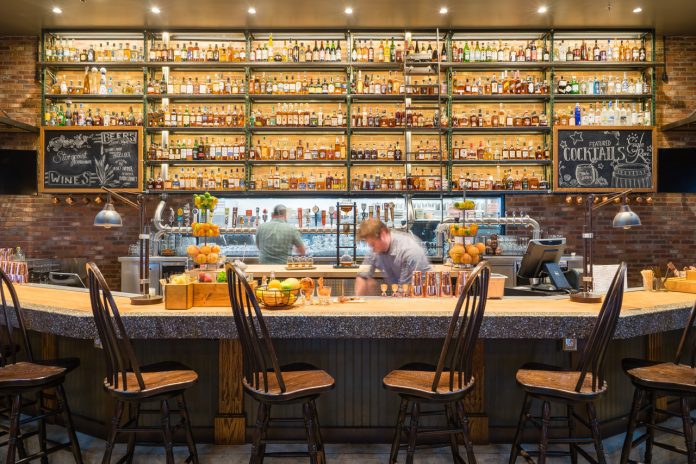 photo: Whiskey Cake
The brown spirits of bourbon and whiskey are enjoying a re-birth of sorts with restaurants and mixologists creating places, events and cocktails to cater to the boom. "With over 25 different selections, bourbons and whiskeys are Rococo's biggest seller of spirits by far," said Dave Madera, Director of Operations at Rococo Steak. "The popularity of bourbons these days is crazy. Old Fashioneds are almost an everyday order at our bar. It is exciting to see the growth, but with bourbon in such high demand, it can be hard to get a hold of, or keep, certain brands in stock."
We've done the research and discovered what we think are the best Bourbon & Whiskey Bars in Tampa. Be sure to let us know if we missed a few and we'll be happy to check them out. Listed below in no particular order. Cheers!
Haven Tampa
Offering a selection of more than 300 bourbons, you'll be able to try often hard to find bourbons, along with a delicious menu of tantalizing dishes.
2208 West Morrision Ave.
Tampa, FL 33606
www.haventampa.com
Rococo Steak
Experts in creating a delicious Old Fashioned that pairs the brown juice extremely well with a delicious, rare steak.
655 2nd Ave. S
St. Petersburg, FL 33701
www.rococosteak.com
Gaspar's Patio Bar & Grille and Gaspar's Liquor Shoppe
Great selection of whiskey's at this classic pub-grub bar in Temple Terrace that has been family owned and operated since 1960. Pet friendly with live music, happy hour specials and nightly karaoke.
8448 N. 56th St.
Temple Terrace, FL 33617
www.gasparspatio.com
Whiskey Cake
Located at International Plaza and Bay Street, Whiskey Cake offers a selection of over 300 bourbons, whiskey's and ryes and serves up delicious whiskey crafted cocktails and delicious food from the scratch-only kitchen.
2223 N. Westshore Blvd.
Tampa, FL 33607
www.whiskeycake.com
Davidoff of Geneva
The perfect pairing of whiskey and cigars. Sit inside or out to enjoy a wide selection of hard-to-find whiskeys and bourbons, while smoking a cigar with the guys (or girls).
4142 W. Boy Scout Blvd.
Tampa, FL 33607
www.davidofftampa.com
Mandarine Hide
A chic and trendy bar offering up craft cocktails with over 450 different spirts. One of the largest selections of bourbons, whiskey and scotch with rare and limited edition offerings.
231 Central Ave. N
St. Petersburg, FL 33701
www.mandarinhide.com
Ella's Americana Folk Art Cafe
Known for it's live music and delicious menu of southern favorites, the bar offers up a great selection of whiskeys and bourbons with a tasty barrel aged 1870 Julep cocktail in Seminole Heights.
5119 N. Nebraska Ave.
Tampa, FL 33603
www.ellasfolkartcafe.com
Pete's Place
Best known for karaoke on Friday and Saturday nights, this dive bar in South Tampa offers up Blanton's for just $15.
4145 Henderson Blvd.
Tampa, FL 33629
www.petesplacesouth.com
-By Ronda M. Parag