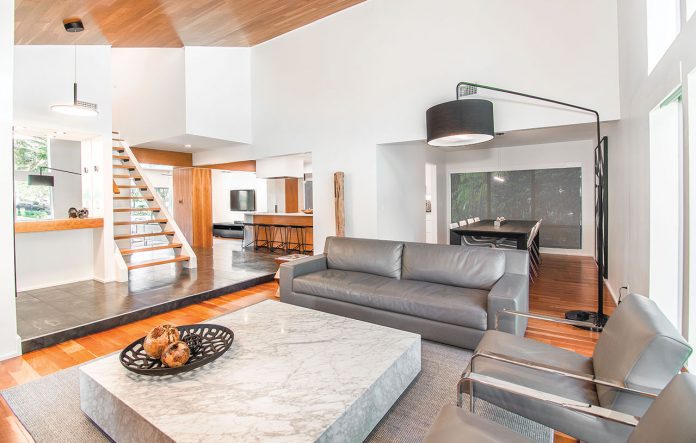 By Mary Lou Janson | Photography by Garrett Brown Photo/Video
Classic architecture, contemporary design and an oversized waterfront lot create a look, lifestyle and level of luxury that few homes in Tampa Bay share or can even compare.
The Mid-Century Modern style combines strong geometric lines, floor-to-ceiling windows and an open floor plan, to provide the perfect framework for admiring unobstructed views of the surrounding scenery.
One of the home's most appealing features is the panoramic view, best enjoyed from the second floor balcony spanning the entire width of the house, while overlooking a      picturesque pond and private golf course just beyond the backyard.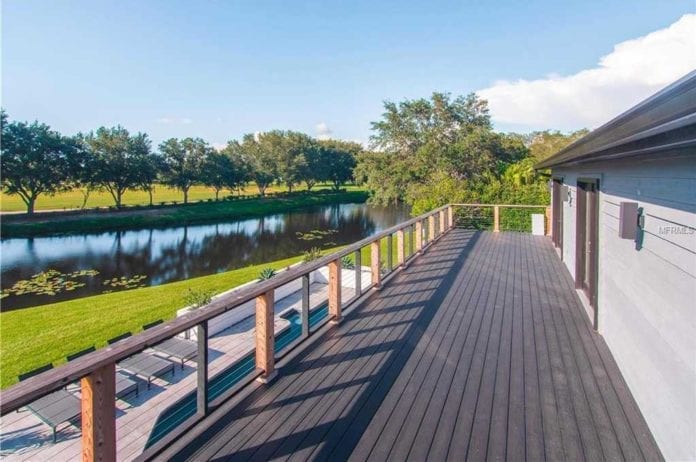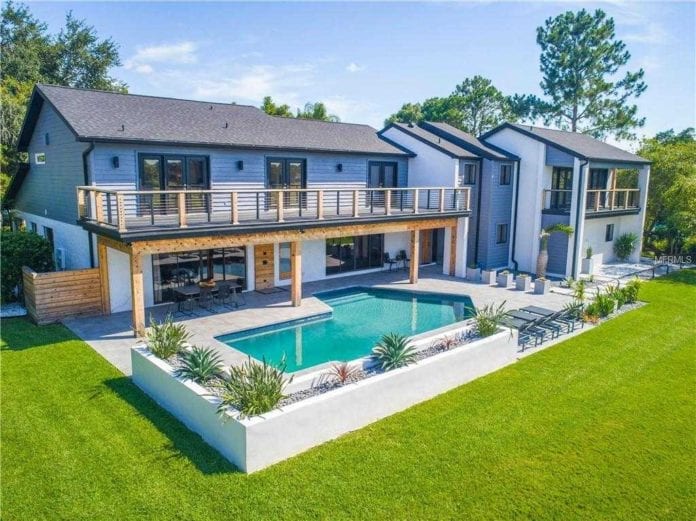 Privacy and peacefulness are further enhanced by the lush green landscaping that surrounds this nearly three-quarter acre lot on all sides.
The interior is every bit as impressive. High gloss white cabinets and solid white walls, cherry wood ceilings, cherry floors and sleek, seamless marble surfaces are a few of the stunning features of this striking home.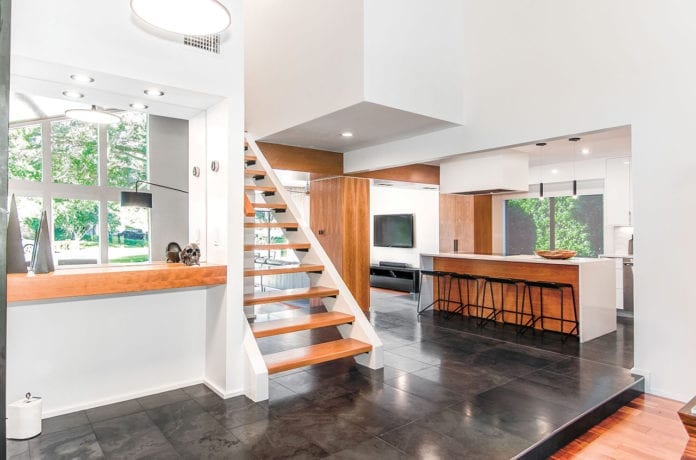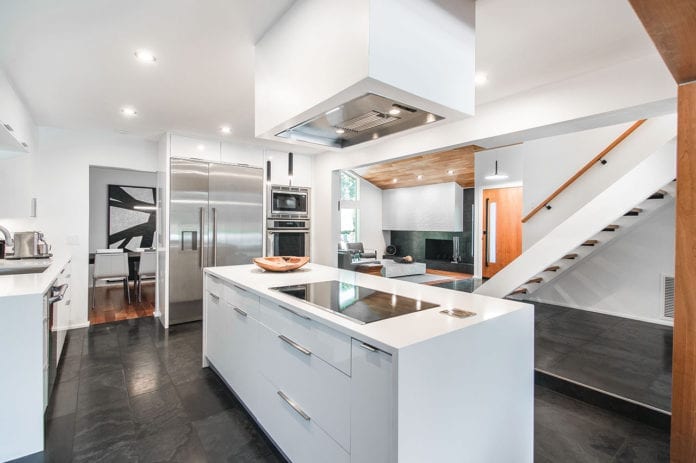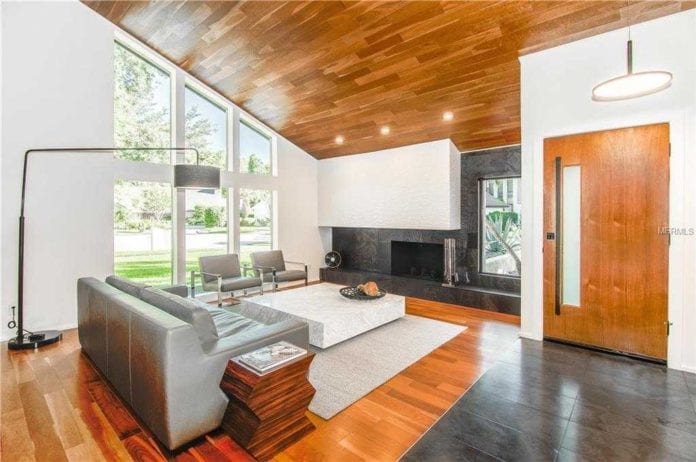 The overall look is simple and straightforward, yet sophisticated. Each piece occupies a well defined place and each space enables each element to stand out on its own.
It's exactly the type of design project Steve Rogai, President/CEO of Modern Capital Development Group, excels at creating and hopes to expand throughout the Tampa Bay area — and beyond.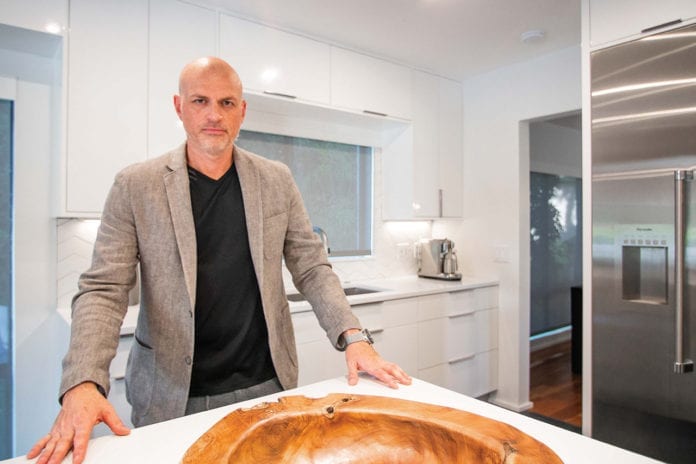 "I bought the home to renovate, and ultimately sell it. But I enjoyed it so much that I fell in love with it and here  I am three years later," Rogai said. "But now it is time to move on to my next endeavor."
The two-story home built on a cul-de-sac in Carrollwood, encompasses a more than 4,000-square-foot floor plan comprised of five bedrooms, three-and-a-half bathrooms, a fully outfitted, professional gym that would be the envy of any athlete, a dry sauna, oversized pool, two-car garage and more than 800 square feet of elevated balcony space.
Located in Carrollwood Village, this is a residential neighborhood that offers convenient access to major roadways in all directions, proximity to a world-class transportation hub, Tampa International Airport, and the ability to live nearby to all that Florida's West Coast offers. Couples, families, young professionals, really anyone, can live here comfortably and contentedly due to exceptional craftsmanship found throughout, as well as the incomparable amount of living space offered, inside as well as outside.
Originally built in 1979, the framework of the home has only been altered once when it was expanded in the 90s. Fully renovated from top to bottom since Rogai took ownership, the customized elements add function and form. Luxe touches, like marble, fill an entire built-in shower and recessed wood shelves built into the living room, efficiently transform normally flat walls into dynamic display space for room décor.
A native of Tampa and a world traveler who enjoys staying in luxurious, modern hotels, Rogai sensed the time is right to offer a new level of affordable luxury to others new to Tampa, or already at home here.
"I tend to do passion projects and this one is a real showpiece for me," said Rogai.   M
Image Gallery
click on images to enlarge or view as a slideshow
---
This property is listed by Mike Hughes and Jeff Shelton of Hughes Shelton Realtors, Coldwell Banker's number one sales team in Tampa. Contact them at 500 N. Westshore Blvd., Suite 850, Tampa, FL 33609, 813-690-1688 or 813-286-6563, www.HughesShelton.com.
---